AIR MARKET ACCESSIBILITY Cape Town continuously strengthens trade links and improves accessibility.
Explore Cape Town's Expanding Accessibility
Despite a number of global economic challenges, including US protectionism and the impact of Brexit, South Africa is perfectly poised to take advantage of several opportunities in air access and thoroughfare. The Western Cape, in particular, has all of the ingredients to move forward and turn global headwinds into incredible prospects.
In fact, the Cape Town International Airport (CTIA) is considered the best in Africa, winning the sought-after Skytrax award for four years running. As Africa's 3rd largest airport, thoroughfare here has also grown steadily year on year. In 2018, international passenger numbers grew by 9.6% after an already impressive 16% growth in 2017 (totaling ±10 million international travellers).

The UK is still considered the top market for Cape Town business and recreational travel. This is closely followed by Germany and the USA. It's not surprising that the Cape Town International Airport expansion now connects the port of entry to over 21 countries with ±750,000 international inbound seats and 13 new routes in three years. Cargo figures have also improved significantly with more freight being transported in the belly of the aircraft. In fact, cargo freight has grown by 52% in 2017 to 57,000 tons.
International Routes – Country Map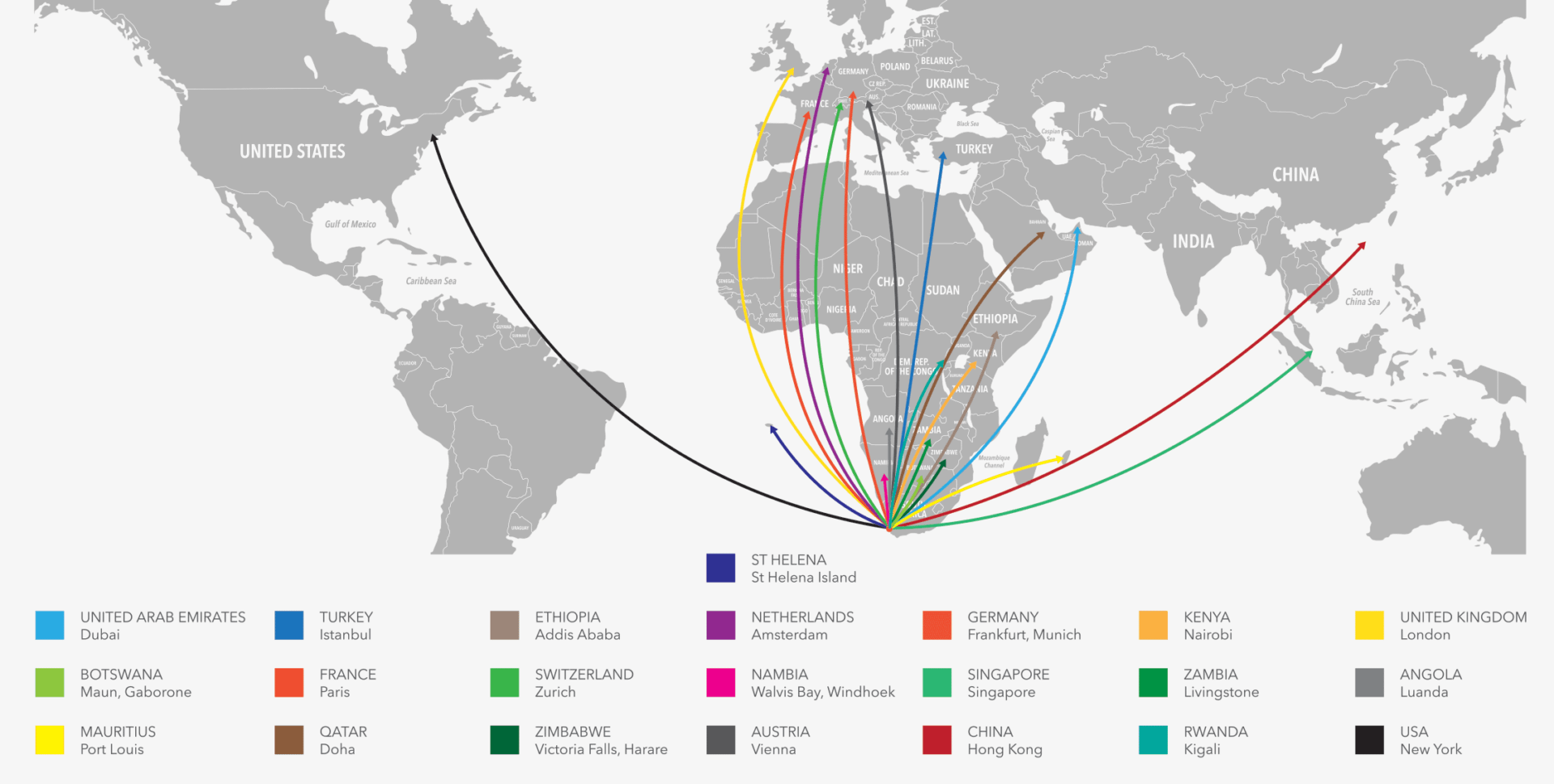 Air Access has added 700 000 international seats since July 2015.

Cape Town Airport is the 3rd largest airport in Africa.

CTIA is the most punctual airport in South Africa 2016.

Airport charges being dropped by 35% on average from 1st April 2017.

Cape Town Airport is the 2nd largest airport in South Africa.

Best Airport in Africa award at the 2019 Skytrax World Airports Awards. Four years running.
The CTAA Partnership
The Cape Town Air Access (CTAA) project is the result of an innovative partnership formed between Wesgro, the Western Cape Government, the City of Cape Town, Airports Company South Africa, South African Tourism, and Cape Town Tourism.
Launched in 2015, the initiative has seen government, tourism and local businesses all working together in order to promote, develop and maintain national and international air routes to and from CTIA. At the end of the day, the primary goal of CTAA is to intensify and broaden the Western Cape's air access to targeted African and International markets, particularly in order to improve the region's economic competitiveness.
To date, Cape Town Air Access has helped secure 15 new routes, as well as 20 route expansions, resulting in over 1.5 million two-way seats being added. This growth means CTIA will need to continue expanding its infrastructure to accommodate the growth. It's not surprising that the CTAA has several key infrastructure projects planned over the next five years for the international airport.
"The Cape Town Air Access team, a collaboration between government and the private sector, have changed the game in terms of accessibility to our destination. Their relentless pursuit of direct flights to Cape Town has yielded the addition of 1.5 million two-way seats, bringing job-creating tourists to our region." Alan Winde (Minister of Economic Opportunities)
Cape Town International Airport Expansion
Located approximately 20km from the Cape Town CBD, the CTIA is integrated with other city transport infrastructures for ease of travel in and out of the metropolis. It is currently undergoing upgrades with over R7 billion worth of investment allocated to seeing these planned refurbishments and expansions through (Trade & Investment into Africa Report 2019).
These upgrades and expansions are set to be completed by 2023 and include:
The complete refurbishment of the domestic arrival terminal to ensure the comfort and ease of national air access and travel.
The expansion and upgrade of the international terminal to encourage even more visitors and business travelers to enjoy the facilities while in transit.
A new realigned runway worth R3,93 billion, which will achieve the runway realignment that will allow for the future expansion of the terminals.
The new runway will also allow the airport to safely increase its per hour landing and departures from 30 to 45 aircraft movements.
It will also allow the airport to more easily accommodate a whole new generation of larger aircrafts, these include the ever-popular international long-hauls – the Boeing 747-800 or the A380 aircrafts.
The Mother City Welcomes You 
The popularity of the CTIA isn't just because of investor support and government backing. It's also one of Africa's most punctual airports and since 2017 airport charges dropped by 35% on average. Add to this the incredible efforts by the Cape Town Air Access team and it's truly not surprising that the Mother City is fast becoming a go-to destination in Africa for business, investment, film, trade and tourism.
"This project will unlock the full potential of our aviation economy by connecting Cape Town with many more countries resulting in additional trade and investment opportunities. It will drive demand that makes business sense." Beverley Schafer (Western Cape's MEC for Development and Tourism)
For more information about Cape Town air access connect with our investment facilitation team!