PORTS MARKET ACCESSIBILITY Cape Town continuously strengthens trade links and improves accessibility.
The Cape Town harbour has earned many nicknames over the centuries. Table Bay, the Fairest Cape, the Cape of Storms, the Cape of Good Hope, the Mother City – these are all indicative of what you can expect from this port city. It's really not surprising that Cape Town can even be said to compete with Alexandria for recognition as the most famous port in Africa!
Lying in the shadow of the magnificent Table Mountain, approximately 120 nautical miles north-west of Cape Agulhas, it's honestly one of the most beautiful harbours in the entire world. The port is strategically positioned almost at the southern-most tip of the African continent with an extensive, rich maritime legacy that spans centuries.
Right next to this well-positioned port is the V&A Waterfront. It's position and beauty have attracted many tourists over the years from around the world. Cape town's port, having already received global recognition by being nominated as one of Africa's leading cruise ports in 2019, is developing a "world-class" passenger terminal through the V&A Waterfront. This is expected to attract leading cruise line companies, which will contribute further to the tourism industry in Cape Town.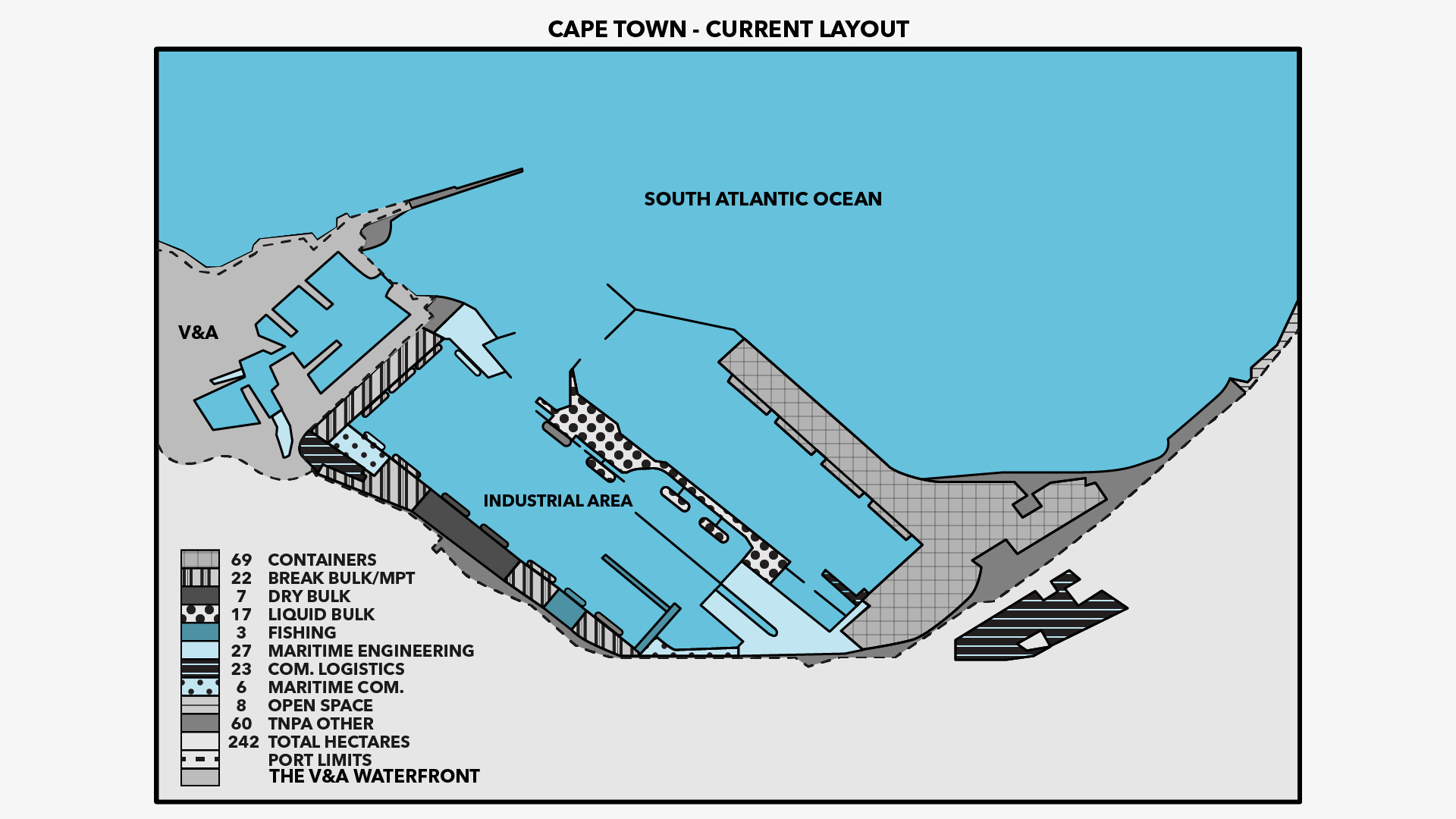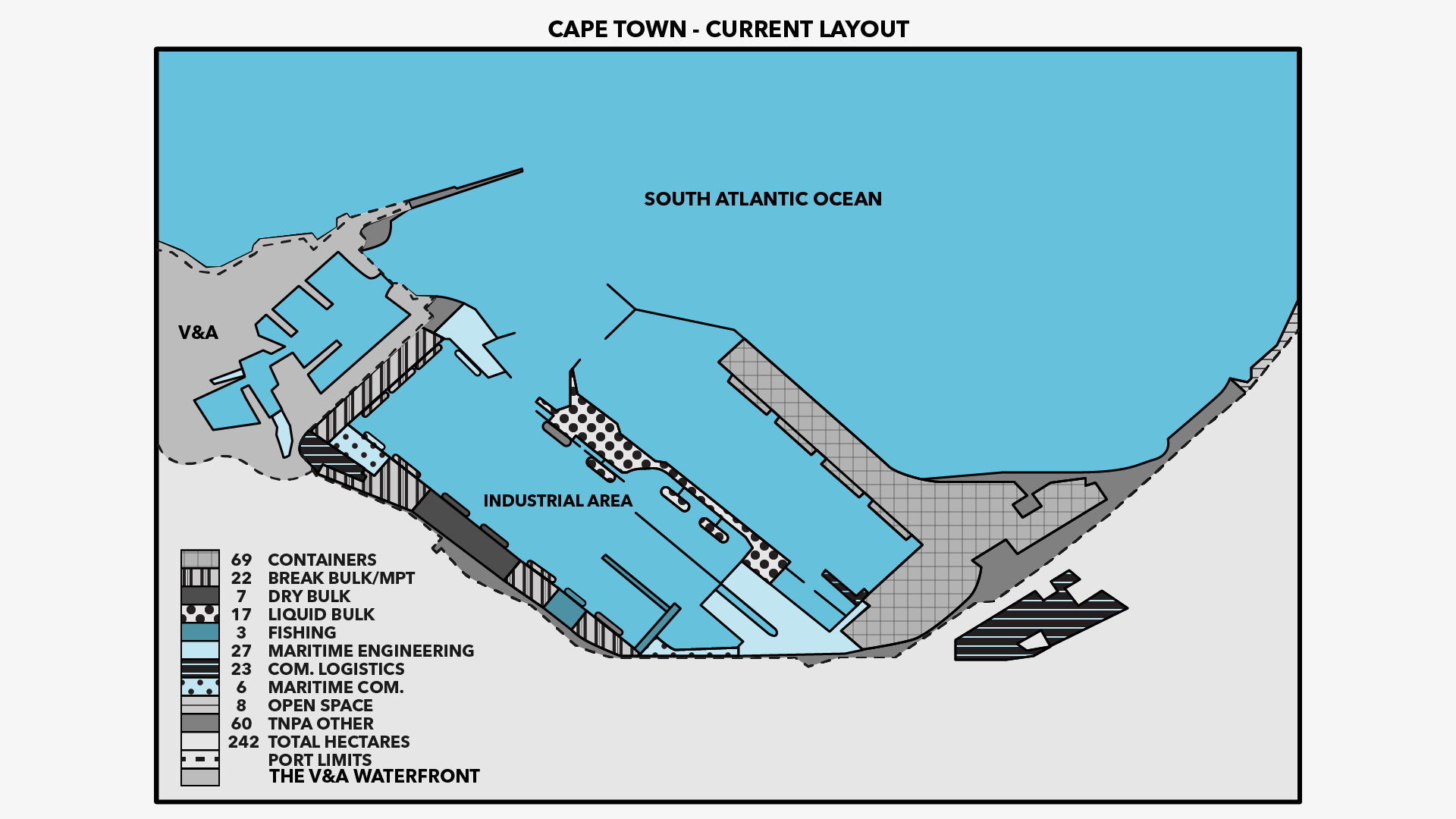 Strategic & Economic Importance
Established by the Dutch on 6 April 1652, when Jan van Riebeeck arrived in Table Bay, Cape Town initially served as a victualing station for the Dutch East India Company. It was perfectly located to provide support to ships on their extensive voyages to and from the Dutch-East Indies. Over the centuries, the Port of Cape Town has evolved from this staging post on a major trade route into a modern, full-service cargo port. Today, the harbour serves cargoes moving between Europe and the Western Hemisphere, as well as the Middle East and Australia.
The port of Cape Town has been an integral part of South Africa's economy. Over the last five years, Cape Town's export value grew by over 10% in 2018 over a five year period, and both the number of containers and amount of cargo handled at the Port of Cape Town has seen a rise in numbers.
The Port of Cape Town largely facilitates imports for regional consumption and exports agricultural products originating from the Western and Northern Cape. It also handles the largest amount of deciduous fruit and fish exports in the country. This thoroughfare and infrastructure have naturally led to the growth of world-class ship repair and maintenance services, accommodating local and foreign fishing industry (particularly from Asia), visiting cruise liners and recreational boating.
Harbour Capabilities & Expansions
Cape Town has two main terminals, or business units, for cargo handling purposes. The Container Terminal contains six deep-sea berths. They are served by a fleet of post-panamax gantry cranes for the larger container ships now in service. The Transnet National Ports Authority has taken a collaborative approach with the private sector to help establish the region as a major transport and logistics hub. This has included several projects totaling in the billions to expand and develop the port's terminals and general harbour capabilities in Cape Town. For example:
There are 34 berths in total including layby berths.
The port also features extensive ship repair facilities.
Sturrock Dry Dock has an overall docking capability of 369.6m length and is 45.1m width at the entrance top with a depth of 14m.
Sturrock Dry Dock can also be divided into two sections of varying lengths.
Robinson Dry Dock (in the Victoria Basin) measures 161.2m in length with an entrance top of 20.7m and a depth of 7.9m.
The port also has a synchro-lift capable of handling ships up to 61m in length, 15m beam and 1,806 tons.
Duncan Dock also features a repair quay, as well as a multi-purpose terminal that handles fruit, steel, paper, maize, wheat, rice, timber, coal, scrap and other general cargo, as well as passenger cruise ships.
Duncan Dock also has a dedicated cold store for fish products with docking space for up to six vessels and the ability to discharge three simultaneously.
The adjacent Victoria and Alfred Basins have a variety of berths available for ship and boat building or repairs, as well as berthing of smaller vessels, including research vessels and visiting naval ships.
Expansion is planned for the Cape Town Container Terminal (CTCT), which will accommodate larger vessels and allow for an increase in annual throughput. This involves resurfacing work and the creation of a truck staging area and ancillary works. Development of this nature will increase the terminal's capacity by 0,4m TEUs, from 1.0m TEUs to 1,4m TEUs (Trade & Investment into Africa Report 2019). Other future expansion plans include the development of the back-of-port commercial logistics area at the Culemborg site.
Additional Competitive Advantages
The Port of Cape Town benefits from good rail and road connections inland to many other centres. It's situated close to the central business district, houses a yacht club and marina, as well as an NSRI base. Furthermore, work is undertaken by private companies at the Cape Town harbour too, including ship repair, engineering, refrigeration, hydraulics, cleaning and painting.
For more information about the Cape Town port get in touch with our investment facilitation team!